How did I get to live on this incredible beach? I googled it.
Where are the most mesmerizing beaches in the world I wondered, 2 months ago, in Chiang Mai, Thailand.
Lanikai Beach in Kailua popped right up. It's official. Its been voted on by global citizens and travel warriors; Lanikai is in the top ten of divine shorelines in the world.
I've traveled the planet in 31 countries and this is the best beach, the one I live 2 blocks from right now.
No matter how I wake up in the morning, on the wrong side of the bed, happily, or didn't get enough sleep; I open my eyes and remember where I am.
I am walking distance to nirvana.
So I literally jump out of bed and get into my bikini, throw a dress over it, and walk or bike down the hill to my personal portal of the divine.
Lanikai means heavenly water in Hawaiian. Boy did they get that right.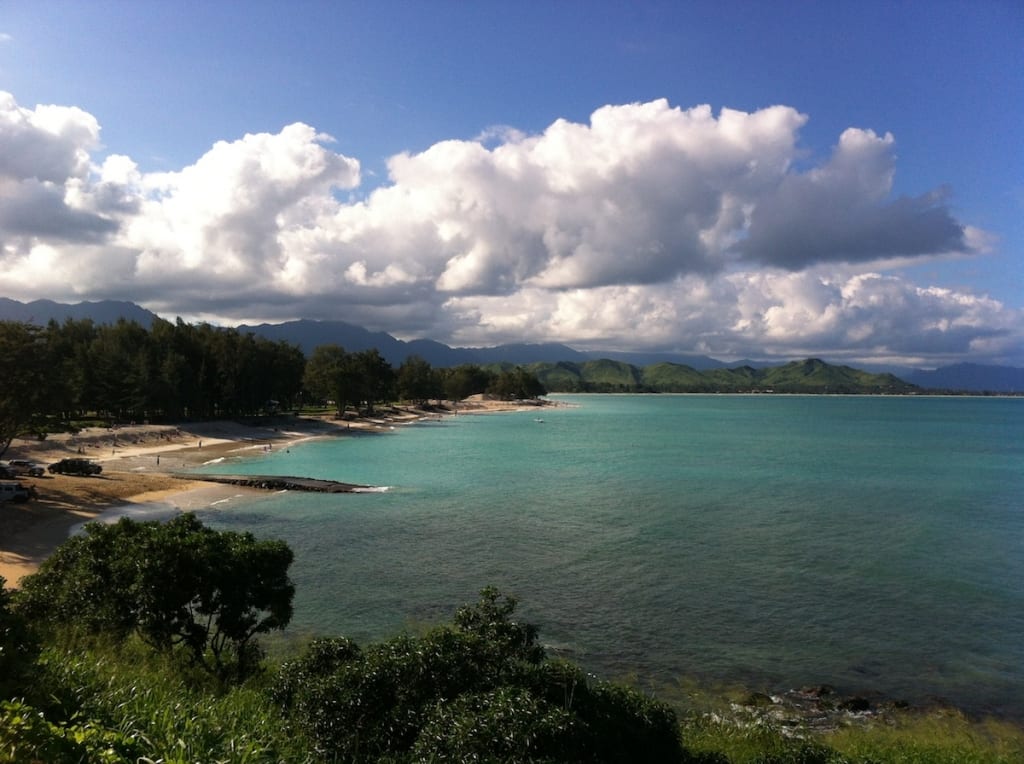 Now I'm spoiled for life. Nothing compares to it. This morning I could not even wait for my cup of strong coffee I bolted out the front door knowing I could get an Americano at the old style Hawaiian market, the only store within walking to this hallowed and holy spot on earth.
It slips my mind a bit how luscious it is until I round the tennis courts and see the 10 billion dollar view cresting in front of me. A swath of cobalt blue with emerald green lush islands beckoning good morning. I quicken my pace or I slow it down. Depends on the moment.
The salty air calls to me.
I relax into my bones and my spirit is renewed. You can't look at that view and be blasé.
It's drop dead gorgeous. Nothing matters now. Only the crisp air warmed by trade winds, and the salty sea for swimming. Our local Lanikai beach with no facilities, no showers, no toilets, no cars, and no loud bad taste music blasting in your ear drums while people blow smoke in your face and yell at each other. No that does not happen here.
So that's why there are 2 to 4 million dollar homes here. And most people rent out there homes to make a good bit of money. I'm renting a room now in a lovely townhouse overlooking volcanoes, trees and the golf course where Obama golfs for goodness sakes.
People are affected by the gorgeousness. We say good morning to one another. When I'm driving, other drivers let me in the line-up if there is a backlog. Politeness is off the charts here.
It must be because of the heavenly nature of the sea, the fact that turtles like it here and are regularly spotted, paddlboarders, babies and lovers frolic in the turquoise pristine water.
Every morning I swim at Lanikai, after doing yoga and chanting. I feel blessed.
Maybe I did something right in another life to land here.
This place is better than the photographs reveal. But if you can feel the energy in these photos and it tells you to come then you must, you will never be the same person again; this will change and renew your mind and soul.
Don't think about it just do it.
Check out my perpetual travel of the most astonishing countries in the world here