Mary in Hawaii
http://www.bartnikowski.com – free ebook, Secrets of Stunning Photographs
Amazing Photography Secrets online course with any camera (read the reviews) 1029 students can't be wrong
I'm an author, award-winning photographer, world citizen, educator, mother, and publisher of Vagabond Travel Photography Magazine for your ipad/iphone.
Arrival in the World
Conceived in the Poconos over the orchestra pit. Glenn Miller was playing, my parents skipped breakfast for a week.
Sexy, yeah.
Lets get physical
Born 1956, in Syracuse New York
Favorite thing to do at age 4 was
Drawing birds and playing with my sister Vicki
Kindergarten
Wished school would always have a nap in the middle and serve cold chocolate milk with hours of doing art work. I'll be an artist when I grow up.
Good Catholic Girl
My 2nd grade teacher said about me, "She's smart, she could be a doctor."
But what I really liked doing was speaking and making my friends laugh. Didn't know you could get paid for this.
1974-1976
College years. I liked getting A's but realized that going into the medical field would be an overload of chemistry and anatomy classes.
1977 So I skipped the rest of college and hitchhiked solo to Key West, Florida by sailboat and private plane with my cat. Yes you could do that in 1977.
1979 Arrived in San Francisco
Lived in the Mission district when it was still 100% Latin and not cool yet. Loved eating burritos and fried rice. Played cello, fell in love, painted houses. Psychedelic times.
1981 Capistrano Ave in San Francisco
God spoke to me one night. "Go home" he said, so I sold everything in SF and got on a train for New York. 4 days later arrived in Syracuse. Best friend picked me up.
Surprised to Meet Bob Dylan and shake his hand. Wouldn't have happened if I wasn't the telephone operator at Hotel Syracuse where he stayed after a concert. Yes this was before cell phones.
Fell in love, met loverman on Halloween night, he looked cute on a skateboard, our kisses were explosive and exquisite. Marriage. Happiness.
1985 Groundbreaking Year
Son, Wolf, born at home in Palo Alto. Realized this was the most important thing I'd ever done – being in charge of a real human being born from my own body. Wow. Head over heels in love with him.
Raising him to love life and be who he is started with me doing it in my life and the way to raise a conscious child is to love him and let him be who he is.
(Slamdunk. He is conscious and has helped so many people.)
Started professional photography – paid $500 an hour to photograph upstarts, start-ups and stars' weddings in Palo Alto California, the heart and brains of Silicon Valley down the street from Steve Jobs.
1985 to 2009 Amazing time photographing angel investors, authors and internet luminaries.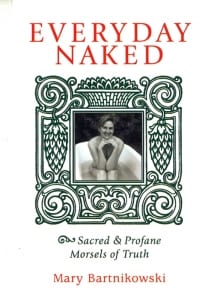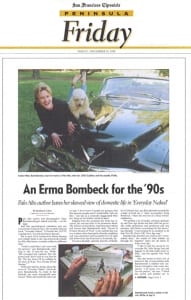 1998
First book published Everyday Naked, stunned and stupefied, I'm a writer they paid me. San Francisco Chronicle calls me to be interviewed.
1999
Wrote, directed, and performed in my stage play, Vulva Chronicles.
2000
Wrote, directed, and starred in a short film comedy about the exact location of the G-Spot, Labia Literacy.
Started the new century single.
2001
First well paid speaking gig at Stanford University, followed by 2001 at Apple Computer and 2003 at Intel.
2004 the Dalai Lama holds my hands and looks in my eyes after his talk at Stanford. I am astounded at the strength of spirit and saintliness – it radiates into your soul – felt recharged for several weeks. Didn't want to wash my hands ever. Yes he's holy.
2006
First trip to India and Nepal, Bali, and Thailand.
Arriving in Kathmandu to see my son volunteer teaching in Nepal, opened up portals in my brain and spirit I didn't know I had – first cultural clarity heartbreak of life.
Being born in the USA is a gift – seeing true poverty in one of the poorest countries in the world shook me up and showed me a new path of kindness.
Taught photography to the faculty of Nepal Youth Foundation, a non-profit devoted to changing girls' lives.
Went to india with my son who took me to holy towns of Rishikesh and Dharamsala in the Himalayas. Stayed in an ashram on the Ganges River where saints and sages walked. Holy vibes galore. Saw the Dalai Lama at his home for a teaching. Saw my self differently. Returned to Palo Alto and discovered I wanted to change my life.
So I did.
 2007
Worldwide wanderlust set in. Sold my car in Palo Alto and went solo to South America overland starting in Ecuador, then onto Colombia, Peru, Bolivia, Argentina and Brasil.
Humanitarian projects in Argentina and Colombia. Started to speak Spanish.
Brasil spoke to me. People, friendliness, water, kindness, islands. Why can't life be lived barefoot, wearing a bikini without underwear?
Wanted to never come back but had scheduled weddings to photograph in Palo Also so I returned after 6 months. Vowed to come back quickly but went to India and Nepal on my mystical world journey instead.
2008
Thailand, india, Nepal laos. 10 months this time and it wasn't long enough. Being paid to teach I could stay in India longer got a 5 year visa and was sure it was my home.
Nope.
But I loved teaching yoga, photography and riding elephants bareback and hitchhiking in the Himalayas to holy places, and realized I could do this for my life not just on a trip.
2009 Sold my belongings in Palo Alto and launched myself on a world adventure with no itinerary. Stopped worrying and started living. Went back to India, taught yoga at Parmarth Niketan, meditated in Nepal, played with elephants in the jungle, explored Sikkim and then went to Sardinia.
2010 to 2012
Lived in Guatemala, Belize and Mexico. Maybe I will live here but Asia was calling me again.
2012
Arrived in Bangkok, Thailand and went on an 18 month teaching and discovery journey. Writing 2 books, shooting and created my app Vagabond travel mag with my best writing and photography. Burma, Cambodia, India, Nepal.
2013
Full stop after major motorbike accident in Chiang Mai.
Could have died and didn't so I asked myself what have you always wanted to do?
Answer: Live in Hawaii
So I did. Bought a one-way ticket from Thailand.
Arrived in Hawaii on Dec 4 2013 with 3 pieces of luggage. One of the best things I've ever done for myself.
After swimming with dolphins on the Big Island and falling in love with new and wonderful friends I now live on Kauai leading private retreats to the power places of this lush immaculate pristine amazing island.
Join me on Kauai!
Teaching photography on Kauai, above photo
Join me on Kauai – you'll return home with practical advice, inspiration, and stunning photographs, you'll get the expertise and secrets I'm paid big bucks for, and you'll get it instantly. With any camera.
Call Mary and speak to a real live person. 808-542-4566.
mary@bartnikowski.com